Where:
1400 E. Washington Avenue, El Cajon
When:
Sunday from 3-7:00 PM
Music:
Dance:
West Coast Swing and Ballroom
Cost:
Free first dance
Web:
Phone:
(619) 442-9461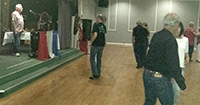 The San Diego Swing Dance Club offers weekly West Coast Swing dances every Sunday on the El Cajon Elks Club's almost 2,000 square foot hardwood floor with a very large table area for schmoozing and relaxing while waiting for the next dance. The club founded in 1970 offers music from a DJ following an 80/20% rule where 80% is WC Swing and the remainder everything from 2-step to waltz. First timers are warmly welcomed; a woman's choice policy, free snacks and water is provided plus an open Elks Club bar. A group WC Swing class occupies the first hour. Free parking on the large Elks Club campus. Check their web site for details.