Where:
3925 Ohio St. – North Park – San Diego
When:
2nd & 4th Sundays of month from 4-6:00 PM (Dates vary, check with site or band.)
Music:
Dance:
Swing, some ballroom
Cost:
$10
Web:
Phone:
(619)255-5147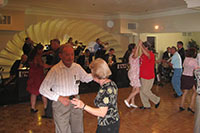 Downbeat Big Band is great 17 piece orchestra and vocalists belting out traditional "Big Band" from the 40's and 50's a variety of swing music, plus waltz, nightclub two-step or cha cha. Bottled water is available. Free Queen Bee and street parking is limited. Parking across the street from Queen Bee's at Chase Bank is $3.00. Park first, obtain a code and instructions from Queen Bee´s then return to pay station to enter code and make payment.