Where:
4044 Idaho Street, San Diego
When:
First Friday of the month from 1-3:00 PM
Music:
North Park Dance Band
Dance:
Ballroom
Cost:
$2
Web:
Phone:
(619) 235-1152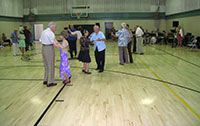 Though one of the oldest recreation centers in San Diego it recently went through sprucing up and a refinished birch floor that makes for great dancing. The North Park Dance Band is an all volunteer orchestra playing only for the monthly dances for over 20 years. They play the traditional selection of ballroom dances swing, waltz, foxtrot and Latin. Members and vocalists add to audience pleasure with vocals. Punch and cookies are served when the band takes a break at 2 PM. Parallel and angle street parking is available in streets around the facility.