Where:
2430 S Escondido Blvd., Escondido
When:
Sundays (1st & 3rd)at 2-5 PM
Music:
Dance:
Ballroom
Cost:
$10
Web:
Phone:
(619) 287-0089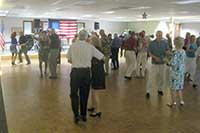 The Pier Group is 2 electronic keyboards, drummer and vocalist, Rachel Drexler, producing a wide array of easy to ballroom dance music. This a stable well known San Diego group that performs routinely plays at several venues. The Elks Club offers a large hardwood dance floor surrounding by large round banquet tables and chairs. During the first break the club provides free snacks of fruit, cheese, crunchies, coffee and water. The club bar offers beer, wine, and cocktails.