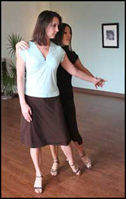 If you are an experienced dancer, we will dive right into whatever material you are wanting to learn. Lessons at our studio always cater specifically to your level of skill and your personal dance goals.
During this introductory dance lesson, your instructor will have the opportunity to find out more about you and the benefits you are hoping to reap from learning to dance. She will get a feel for how you learn, and how you move, so she can give you a clear idea of what it willl take for you to reach your goals.
This first dance lesson is designed to give you a clear idea of what you are getting into,and provide a clear picture of the amount of time, effort and enjoyment involved.