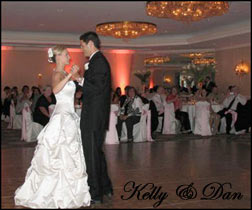 "We had a perfect first dance! We were on the beat, I let Dan lead, and everyone was impressed! Everyone is now sold on taking lessons! It was just perfect and we owe it all to you! Thank you for everything and for making our first dance a success!"
- Kelly & Dan Durkin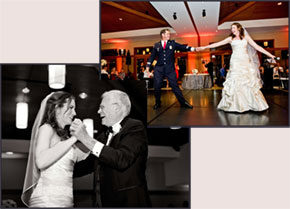 - Mindy, Darren and Bob, her dad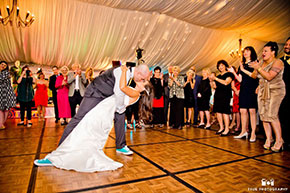 "Rebecca is an excellent teacher!! In the 7 weeks we have trained with her, she taught us basic rumba proficiency and got us to a point of looking good on the dance floor. My husband had no prior dance experience, but can now confidently lead me into a variety of patterns.
"We are very happy with the experience and plan to continue building up on what we've learned. We always leave the studio happy and are excited to learn additional dance styles with Rebecca in the future."
- Elina &Jay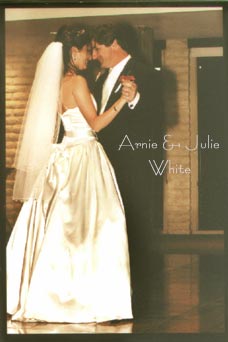 "Thank you for the wonderful "crash course" before our wedding You would have been impressed... We looked like we had been dancing together for years!"
- Arnie & Julie White
"Isabella was amazing! She really broke the dance down into digestable pieces and made it fun and enjoyable in the process!
"'Dancing Together' is a necessity for all of you Brids & Grooms to- be! Thank you for making our 1st wedding dance something we'll never forget."
- Chris & Joyann Book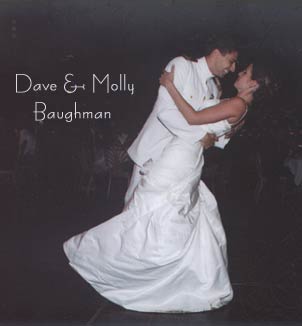 "We made it through our dance! We can`t thank you enough for your patience and for working with us so quickly. The dance went so well...Thank you for all your help."
- Dave & Molly Baughman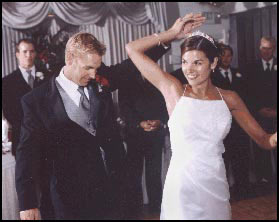 "Thank you for your hard work in helping us with our first dance. It turned out wonderful and very fun!
"Although our weeks were busy, and the last thing we wanted to do was go to dance lessons, you made them fun!"
- Debbie & Jason Hatz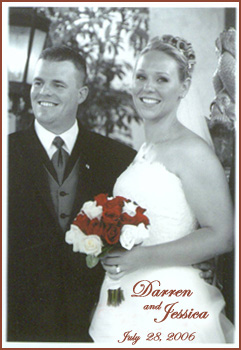 - Darren and Jessica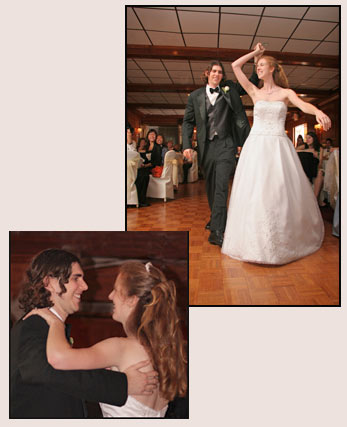 - Mark and Lauren
"The ability to dance with my daughter at her wedding was priceless! Many thanks to the competent staff at Dancing Together for making dancing do-able, fun, and even addicting!"
- George Ching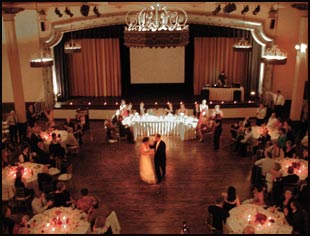 "Thanks again for all your help with our dancing lessons! They certainly paid off in a big way! Everyone was really impressed- not to mention we had a blast!"
-Kim & Kevin Messey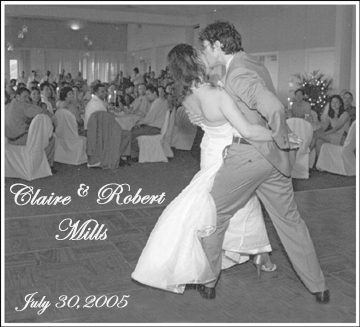 "We want to thank you for quickly whipping us into a Foxtrotting force. We know it took a fair amount to get us ready for our 1st dance in such a short time.
"We especially appreciate the detail-oriented way you prepared us , as it let us get through the dance from start to finish on beat, and with an excellent close. Also, the extra step you developed for us ( both of us spinning and moving across our small dancefloor) gave our dance that touch of flairI I was looking for. (Although it was almost Claires undoing in her dress....we pulled it off!)
"We thank you for listening to Louis Armstrong as often as you had to, and again, for putting together such excellent starting and finishing routines, without the entire dance being choreographed."
- Robert and Claire Mills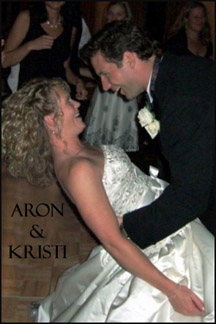 "It was always a fun evening that we often turned into a date night that gave us time together before our wedding."
- Aron Tremble & Kristi Watson

"Thank you! Thank you! I would have to say the number one compliment we got at out wedding reception was how great our first dance was! In fact...one of our guests is a former dance instructor and he said it was " one if the best first dances he`s ever seen!" And we owe it all to you!
"Thank you so much for turning two not-so-great dancers into two ok-dancers who know how to have fun and enjoy a good East Coast Swing!"
- Erin and Jonathan Dunn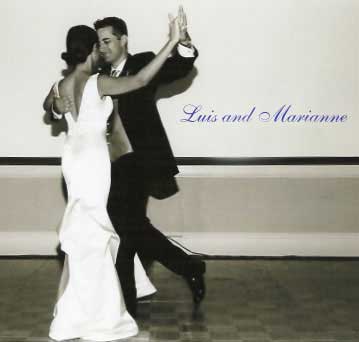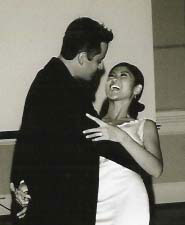 "It was incredible! People were cheering and clapping. It was perfect! We owe it all to you....You were such a great dance instructor! Thanks again for everything!!!!!"
- Marianne and Luis Santos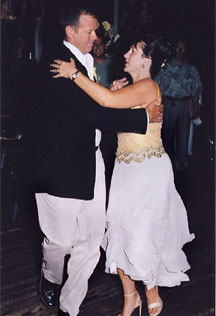 "Dancing! A truly passionate display of emotion. And what a dance we had. Our wedding was wonderful. Full of laughter, joy, love and passion. 10 months after our cermony, I still get comments from friends and family about "the dance". We stunned them all! Rebecca, you are an inspiring teacher and dancer. Your patient and supportive teaching style helped Dirk stick with it. I really admire how you correct us always with positives. We never felt like fools when we messed up. It is all just part of the process. You helped Dirk and I have a night we will always remember. Thank you."
- Sharon and Dirk Sachse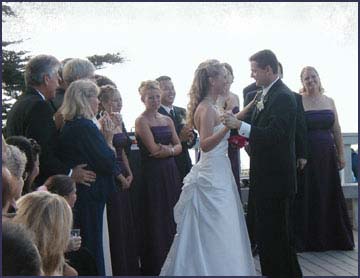 -Angela Clossin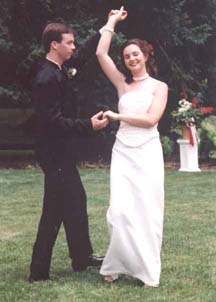 "Rebecca is a very talented dancer and instructor,and we learned so much from working with her. [Her] patience with us as beginners inspired us to keep going, and we learned a lovely dance for our wedding."
- Robert and Jennifer Carty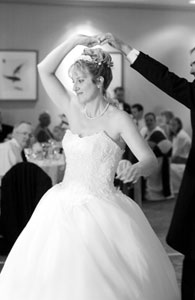 - David and Dawn Sullivan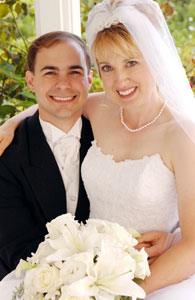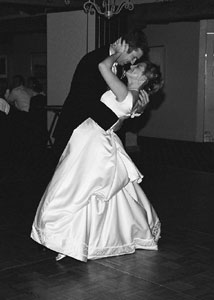 "We started lessons for our wedding day dance and we enjoyed it so much, that we've continued on to learn to Swing! Rebecca makes it fun and easy- and can easily manage a couple at different skill levels."
- Chris and Karin Claisse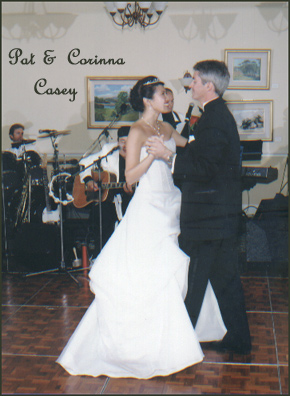 "You made it a fun process, and we learned so much. Pat couldn`t hear the beat before we started working with you. (Now he can!)
"For our first dance, we were so relaxed, and just had a great time out there. We even got the dip in at the end!"
- Corinna & Pat Casey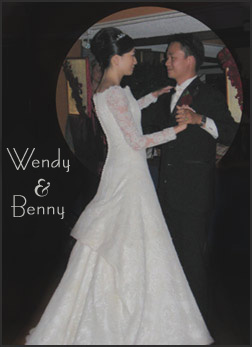 - Wendy and Benny